Citrix Synergy Lunch Table Tech Chats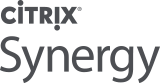 Did you miss the Citrix Synergy Lunch Table Tech Chats? The lunch chats provided an opportunity for attendees of Citrix Synergy 2014 to gain new knowledge about hot tech topics and expand their professional networks. Below are the 5 Tech Tables from Citrix Synergy 2014.

1. Mobility Tables -- Biggest takeaway, there is no such thing as a "standard use case" in the mobility landscape.
2. Networking Tables -- Benefits of discussing Cloudbridge
3. Virtualization Tables -- Discussion focused on storage solutions, new vendors and products and the excitment of attendees actively using VDI technology
5. Speak Your Geek Tables -- Netscaler, Netscaler VPX licensing and bandwidth limits, the future of XenServer, how to move it to the cloud, and the cost of storage.
Click here to read a full recap of the Citrix Synergy Tech Chats.