Virtual Desktop Infrastructure-a Smart Alternative to Server Based Computing
VDI (Virtual desktop infrastructure) is the practice of hosting a desktop operating system within a VM (virtual machine) working on a centralized server. Virtual desktop infrastructure is a variation on the client/server computing model, at times referred to as server-based computing. The term was coined by the VMware Inc.
In the past couple of years, some large companies have turned to Virtual Desktop Infrastructure as a great alternative to the server-based computing model used by Microsoft and Citrix Terminal Services. IT companies empower its IT professionals to protect the crucial content, stridently reduce the cost and time of managing desktops, support a large array of clients, and allow for user mobility. When you deliver secure, personal access to individual desktops in the cloud, your users can access their applications and data at any time, from any device —corporate or personal.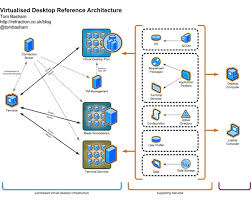 The modern, innovative end-to-end cloud client-computing solutions comprise optimized virtual desktop infrastructure (VDI) and other types of desktop virtualization. With firmly integrated data center hardware, end points, management software and services that work flawlessly with Microsoft®, Citrix, and VMware virtualization software, businesses can easily access the corporate data and applications across a wide spectrum of use cases.
Maintain the most reliable, secure, and manageable system possible with cloud client-computing:
Ensure data security — Severely reduce your risk of data loss by centralizing user data, applications and resources within a Dell Wyse Datacenter infrastructure. Wyse secure-access devices range from zero, thin and cloud clients based upon a range of firmware options, including self-managed and easy-to-use Wyse ThinOS, our elite virus- and malware-immune client operating system.
Manage your system efficiently — Cloud client-computing helps advance the service delivery and competitiveness by simplifying IT, reducing complication and offering flexibility. Streamline the infrastructure management and optimize the return on investment (ROI) so that your IT professionals can easily focus on the projects that can make your organization more profitable.
Give your users unconditional, reliable flexibility — The modern Wyse Datacenter infrastructure is intended specifically to offer the utmost flexibility for the customer environments while accommodating BYOD and high user mobility. It brings out the best in Microsoft, Citrix, and VMware technology to best accommodate the individual requirements. The solutions offered are well optimized for your environment and intended to incorporate with your infrastructure.
VDI can be overwhelming. With so many moving parts, where do you start? And how can you be sure you're not overlooking critical success criteria?

Download this free VDI test plan and companion checklist today. It will help account for all the little details to make your VDI project a smashing success.