The traditional PC as the corporate 'thick client' has long been at the forefront of the desktop computing. It has represented a constructive compromise between performance, functionality, and cost. However, a number of problems remain.
Desktop Management: Centralizing desktop management is an exceptionally difficult task in the face of a widely distributed computing environment and the corporate workforce, who progressively need secure on-demand access to their desktop environment from anyplace. Moreover, desktops are pretty difficult to standardize because of the diversity of the PC hardware and users' requirements to modify the desktop environments.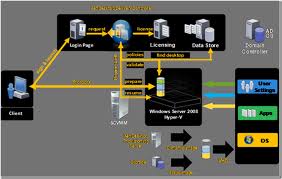 Total Cost of Ownership: The relatively low cost of PC hardware is often more than offset by the high cost of PC support and management. Ongoing PC management including deployment of software, patches and updates can be time consuming and labor-intensive because of the need to test and confirm deployments for a wide range of PC configurations. Likewise, the lack of standardization and the need for support personnel to troubleshoot issues on-site and in person raise the support costs considerably.
Data Security: Ensuring that data on PCs is effectively backed up and can be restored when the PCs fail or files are lost is an important challenge. Even when the data is successfully backed up, the risk of PC theft intimidates the security of essential data.
Low Resource Utilization: The distributed nature of PCs makes it quite difficult to pool the resources to enhance the utilization and reduce costs. Eventually, PCs are often less than five percent used, remote offices need duplicate desktop infrastructures, and remote desktop solutions may be needed for the mobile workers.
According to Cornell Medical College Information Technology and Services, Virtual Desktop Infrastructure (VDI) is a customizable, virtual desktop that you can connect to from almost any device in and access files. It gives the users and system administrators the best of both worlds: the aptitude to host and centrally manage the desktop virtual machines in the data center while facilitating end users a full PC desktop experience.
This form of desktop virtualisation offers numerous advantages, including:
Near-zero downtime in the event of hardware failures
Instant provisioning of new desktops
Significant reduction in the cost of new application deployment
Ability to access the users' enterprise desktop environment from any PC, (including the employee's home PC)
Robust desktop image management capabilities
Normal 2-3 year PC refresh cycle extended to 5-6 years or more
Existing desktop-like performance including multiple monitors, bi-directional audio/video, streaming video, USB support etc.
Desktop computing power on demand
Self provisioning of desktops (controlled by policies)
Multiple desktops on demand
Click Here to Download a FREE eBook. How to Cost Justify Savings for VDI.