How much productive time, in terms of real dollars, does a hospital or healthcare system lose due to IT issues?
That was a question we found ourselves asking for one healthcare system under our IT management. What we discovered was a little eye opening and worth sharing.
While the IT department staff within this organization was not growing, the number of tickets/issues being created daily, coupled with the amount of time IT was spending, on average, resolving those issues led to a significant loss in productive time for the healthcare facility.
I would like to say we saw the productivity problem right up front and went to work right away on it, but we didn't, all we could see was a lot of IT inefficiency.
After some initial analysis we spent several months working with the near singular purpose of cleaning up the most egregious inefficiencies. At a high level, proactive monitoring (With some help from Goliath Technologies and Aternity) was put in place. Automation was introduced to manage trouble spots in some buggy applications, change management and basic Support Desk metrics were put in place to get a handle on the environment.
Our team has been successful in radically reducing the ticket volumes and time spent solving each individual issue.
Normally we would stop the conversation here, the healthcare IT department would congratulate itself for a job well done and we would all live happily ever after.
However such is not our lot in life because we are focused on trying to create the best end user experience possible for our customers (yes, really!) so we had to take one more step and quantify the impact on the end user experience.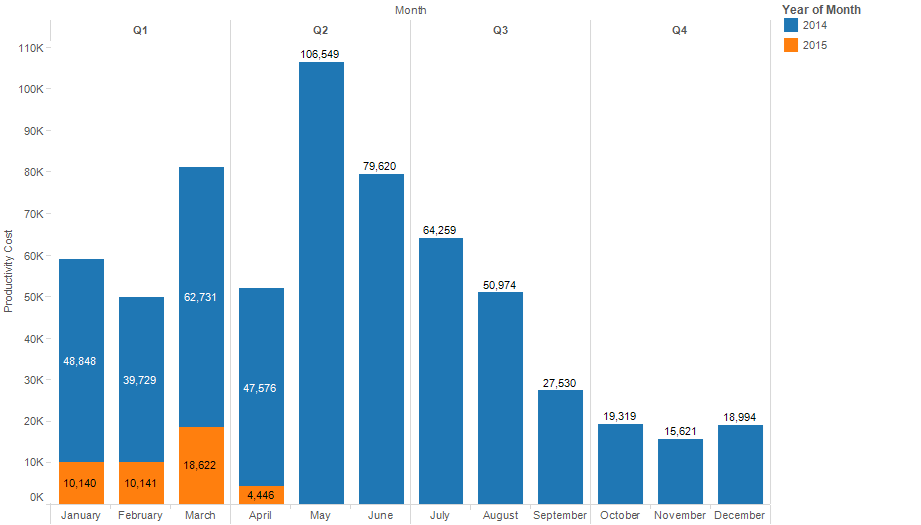 Doing the math, it became clear that effectively 12 FTEs (Full Time Employees) worth of productive time was lost the previous year due to IT support issues (based on the average hourly wage of the facility.) Flash forward one year, with new IT efficiencies in place, the organization was able to recapture 75% of the productive time lost the previous year, effectively giving the facility back 9 full time employees worth of productive time without adding one new employee when comparing 2014 against 2015 numbers.
Now let's stop and go celebrate, right? Nope. What did all this IT efficiency cost?
Digging into the IT Department math, all of this new and improved IT efficiency came at a 24% savings in real dollars (payroll, consulting services, support, etc.) to the organization vs. what was paid the previous year.
In all of the meetings I have attended exploring staffing needs, org. chart changes, etc. we never think about exploring IT efficiency as a source of full time employees. How many hours of lost productivity does your organization have tied up in your IT Support Desk? You might find some lost employees there.