In a 2019 whitepaper by IDC, research concluded that application performance improves 36% in virtual environments delivered with NVIDIA virtual GPU technology because applications were able to access increased processing capacity of the CPU + GPUs.
Virtual desktop (VDI) user productivity improved 13% as applications improved in responsiveness, becoming more consistent and PC-like, meaning end users created fewer support tickets for problems they were experiencing. In fact, IDC found help desk operations were 51% more efficient in part because of the improved end user experience. The advantage of centralized management and the ability to include more graphic-intense use cases in the VDI environment reduced cost to support the endpoints by 36%, leading to an overall 49% reduction in TCO.
Read that again, adding NVIDIA vGPU to VDI environments improved the end user experience, improved Help Desk efficiency by 51%, and cut the time it took to get the initial investment back, the ROI, by half. IDC's analysis revealed end users gained 36 productive hours per user, per year with NVIDIA vGPU.
"…Participants (in the study) stressed how GRID vPC enabled better user experience for everyday applications such as Microsoft Office, Google Chrome, and PDF viewers. Interviewees also cited good support for the use of corporate-level video applications for training and other purposes".
A second pervasive myth is that implementing NVIDIA vGPU into a Citrix or VMware environment is as simple as installing some graphics cards and a bit of software. This view oversimplifies the effort involved significantly. Done correctly, incorporating NVIDIA vGPU into a Citrix Virtual Apps and Desktops or VMware Horizon environment will deliver a trifecta of benefits.
1. A radically improved end user experience.

2. Support costs per user should decrease, up to 50%. This number is backed up by IDC research.

3. Achieving maximum user density for knowledge workers should yield an average cost of $4/user/month. This assumes a 1 GB vGPU profile over 3 years, cards + software.
To achieve the trifecta you must: choose the right host and optimize it for NVIDIA vGPU, choose the right NVIDIA GPUs, optimize VM sizing, optimize for user density, be mindful of which endpoint OS and build you select, select the appropriate protocols for delivery of the desired content, and taking into account the capabilities of your desired endpoint(s), host servers, GPUs, hypervisor, virtualization platform and available bandwidth.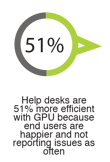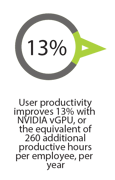 We have recently assisted several large organizations in sorting out implementation challenges or helping organizations with struggling VDI projects. In an effort to assist the VMware Horizon and Citrix Virtual Apps and Desktop communities achieve a higher degree of success, our engineering team has pulled together a list of the most common challenges we see companies struggle with in their effort to deliver VDI projects on their own. Download the ebook, Building Great Virtual Desktops with NVIDIA vGPU, to read about the most common challenges we saw, where things can go wrong, and what steps can be taken to avoid them on your road to delivering vGPU-enabled applications and desktops that deliver the trifecta of benefits.