How to Update XenApp 6.x Licenses without a Reboot
As a Citrix Consultant sometimes you need to update a XenApp license whether it be permanent or temporary. With temporary licenses you get a countdown indicator like that shown below.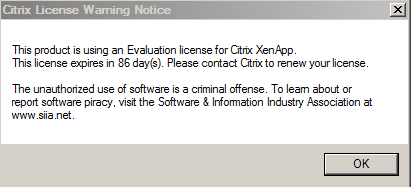 The problem here is if you wait until you get down to a day or so remaining and you put in a new license the only remedy at this point has been to reboot the machine. I thought to myself there must be a better way especially if you are administering a Citrix environment for a hospital or other 24x7 operation.
According to the Citrix Article http://support.citrix.com/article/CTX128859 it states:

I even called Citrix Support and they told me that yes, I had to reboot the server(s) for the license nag screen to go away. The support person even mentioned that I could try stopping the IMA service, rebuilding the Local Host Cache and then starting the IMA service but this did not work.
One thing I noticed that once you get around 14 days remaining on a temp license the nag messages seem to pop up every ten minutes and it does this with each Citrix application you have open so it becomes quite a bother to the users.
I was looking around the Citrix forums and found one person (don't remember who it was or I would give credit) who mentioned that if you point your policies to a non-existent license server and then do a gpupdate (not force) and then change it back and do another gpupdate it should work. I did this and sure enough it worked without having to reboot the server. If you do not have your license specified in your Citrix Computer policies then you will need to do so before doing a gpupdate shown below. The reason this is mentioned is because after you install XenApp you will configure it and the first configuration item is licensing so if all the XenApp servers are set this way then usually a policy is not set but it will need to be set for this to work.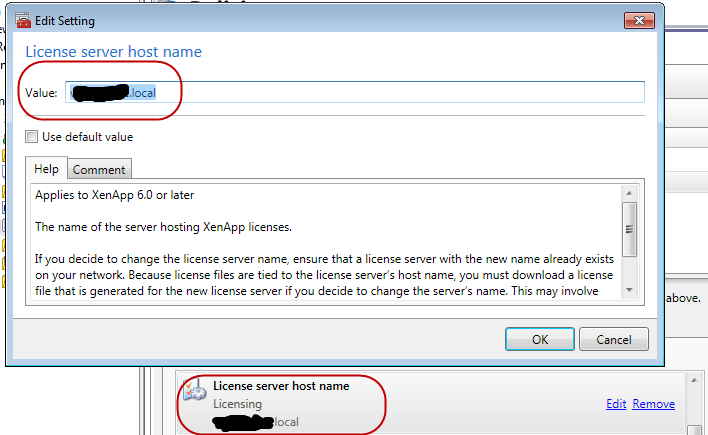 Note: DO NOT use the force option with gpupdate as that will disconnect all of the users from the XenApp Server and they will not be too happy. Gpupdate without the force will not do that.
NOTE to Citrix: Please update your support staff to let them know about this workaround so that it will save organizations that have better time to spend then to needlessly reboot their XenApp servers.