Top 10 Features of XenMobile
At Citrix Synergy last month we got a glimpse of Citrix XenMobile and the Citrix Ready Worx Verified program. Working with Citrix's Worx SDK, application developers are creating modified versions of their applications that run natively on Citrix's Worx mobile platform.
If you are not familiar with XenMobile, it is Citrix's answer to managing Mobile for the enterprise. XenMobile provides the security, compliance and protection that business is seeking while allowing employees the freedom and flexibility to use whatever device they feel comfortable with.
You can learn more about this solution in our MDM Bakeoff article.
Any application can be served up to any mobile device with Citrix already, but the difference here is applications developed against Citrix's Worx SDK will natively strike that perfect balance of employee freedom vs. company control.
Gartner revised their "Critical Capabilities for Mobile Device Management Software" report last month to reflect some of these and other recent changes positioning Citrix as the Overall Use Case leader.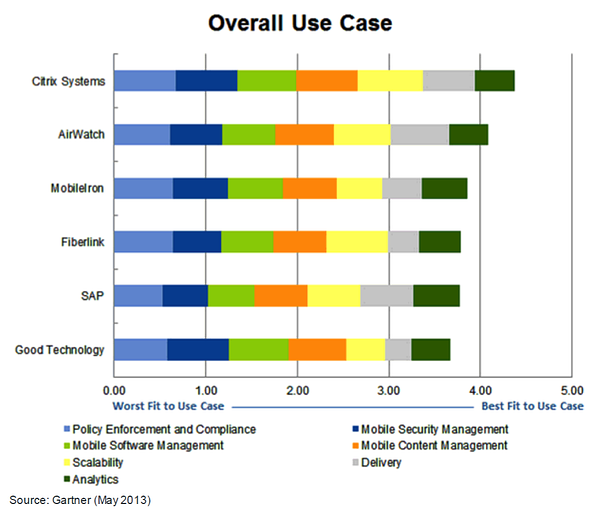 Natalie Lambert over at Citrix put together a great article last month discussing XenMobile Enterprise and doing a run down on the top ten XenMobile features. I am hard pressed to improve upon it, so I am reposting it here.
Configure, secure and provision mobile devices: XenMobile provides IT the ability manage and secure corporate and employee-owned devices while meeting compliance requirements.
Deliver one-click live chat and support: XenMobile integrates with GoToAssist to provide service desk and remote support tools that give mobile users a critical lifeline to live support for maximum uptime and productivity.
Provide access to SharePoint and network drives: XenMobile with ShareFile integration allows IT to mobilize data in SharePoint and network file share for any user with full security.
Enterprise-enable any mobile app: Using the new Worx App SDK, any custom developed, third-party or BYO mobile app can be delivered to users through the Worx App Gallery with comprehensive policy-based controls, including mobile DLP and the ability to remote lock, wipe and encrypt apps and data. And to make this one better, Citrix is working with leading mobile app developers to ensure their apps are Worx-enabled and thus ready to be distributed to employees using XenMobile. So far, more than 80 Worx-enabled third party apps will be showcase in the Worx App Gallery.
Deliver secure mail, calendar and contacts app and mobile web browser: XenMobile includes WorxMail and WorxWeb, beautiful native iOS and Android apps for email, calendar and contacts app and mobile web browsing that integrates with other Worx-enabled apps and leverages the MDX mobile app security features to offer secure productivity on the go. (And, for organizations wanting to use the native email clients, XenMobile has added support for cloud based email systems, such as Microsoft Office 365, with improved security for control of out-of-compliance devices.)
Benefit from an app-specific micro VPN: XenMobile provides an application-specific micro VPN to enable any mobile app to access an organization's internal network, preventing the need for a device-wide VPN that can compromise security.
Provide seamless Windows app integration: XenMobile provides users easy access to all of their desktops and apps delivered by XenDesktop in the same view as their web and mobile apps.
Deliver a unified corporate app store: XenMobile provides a single place for users to select and access all of their apps – mobile, web and Windows – on any device and as they move among their favorite devices, their chosen apps follow them to ensure full productivity.
Support multi-factor single sign-on: With XenMobile, IT can simplify the user experience with secure single sign-on across mobile, web and Windows apps ensuring that users don't need to remember yet-another-password.
Secure document sharing, sync and editing – in the cloud or on-premises: The integration between ShareFile and XenMobile provides follow-me data across devices and apps and allows users to view, edit and share data within a secure container on their mobile device. And, with ShareFile, IT has choice regarding how they store their data – in the cloud, on-premises or a combination of both.
In hindsight, when consumers got their first taste of appstores, the writing was on the wall for the way we in IT traditionally delivered applications and secured data. There was a time when Good Technology and Blackberry were the only mobile game in town. Mobile is here and companies like AppSense, Citrix and the other organizations mentioned in Gartner's report are all improving their capabilities with each release.
If you have an existing Citrix environment, Citrix is trying to make it easy for you to securely manage mobile, local apps, desktops, SaaS and web apps from one spot. XenMobile is just the most recent piece of the evolving puzzle of how employees need to be able to connect and work and Citrix's mantra of allowing end users to connect on any device, from anywhere, at anytime.
If you would like to read Natalie's original article, you can get it here.